Private aviation provider Magellan Jets is launching a new aircraft sales & management division which will assist prospective and current aircraft owners with the purchase, management, and optimization of their assets. Magellan has also opened their first private jet terminal, at Laurence G. Hanscom Field in Bedford, Massachusetts—Magellan's home-base airport.
Aircraft Sales & Management
Magellan Jets offers jet cards, jet memberships, and on-demand charter, so the new aircraft acquisition and management division, fills out their portfolio of products. Magellan had been seeing some clients graduate from large - 150 to 200 hour - jet cards into whole ownership and move away from Magellan as they bought their plane, but with this new division they can now assist their clients with this transition.
With their large base of jet card and charter clients, Magellan can also offer these new aircraft owners some guaranteed charter revenue to offset the costs of owning their own aircraft. Magellan also offers supplemental lift to these new aircraft owners making a full suite of services available under one provider.
"Through our suite of On-Demand Charter, Membership, and Jet Card ownership options, we've always tailored our offerings to meet the full range of our clients' private aviation needs," said Magellan Jets CEO and co-founder Joshua Hebert. "For those customers whose needs have evolved to require more usage, control, and consistency, we're pleased to continue to add value to their portfolio with our Aircraft Sales & Management services—and we're thrilled to open our first private terminal right in our back yard in Bedford, where we'll be able to showcase the Magellan Jets difference on the ground as well as in the air."
Magellan will work with customers on the acquisition of aircraft, as well as provide full-service management in conjunction with a select number of top-tier Magellan Jets Preferred Network (MJPN) partners that will provide infrastructure, support, and resources for Part 91/135 certificate management.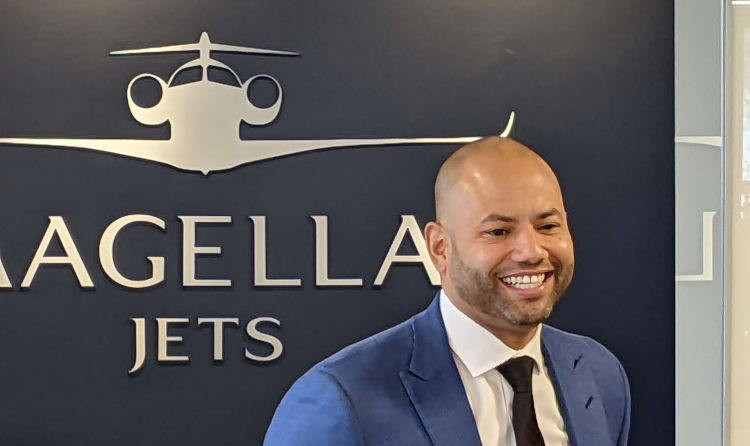 "As a trusted partner sitting on the same side of the table as the customer, Magellan will guide prospective owners through the complex purchasing process, then work with them—or with those who already own aircraft—to craft a personalized management plan," said Magellan Jets President and co-founder Anthony Tivnan. "Because of our existing platform of charter and program solutions, we can guarantee aircraft owners charter revenue income to help offset their ownership cost. Owners will also have access to Magellan's full product portfolio for any supplemental flight needs, providing them with a limitless number of resources at their disposal."
Aircraft owners who manage their aircraft through Magellan will be able to view the complete financial performance of their jet, with real-time visibility of charter scheduling and revenue as well as transparent access to the full breakdown of any maintenance events, crew expenses, or other costs associated with operation and ownership.
First Private Terminal
Magellan's founders say they are excited to open their first private terminal in a location servicing the Greater Boston community, that has meant so much to them. At the terminal, Magellan's guests will enjoy a space that is all their own - a facility unique to Hanscom Field in its ability to cater specifically to the needs of private travelers and make them feel completely at home. Customers will pull into designated VIP parking and be met by staff members who know them by name. A private lounge awaits, where they can relax and enjoy top-shelf spirits & refreshments before or after flights. They'll have exclusive access to a state-of-the-art executive conference room complete with WiFi and telecommunications systems should the need to do business arise. The facility will also serve as a base for Magellan's Aircraft Sales & Management Division, hosting potential aircraft owners and showcasing jets.