London's 47 Park Street Grand Residences by Marriott in the Mayfair district provides members with all the amenities of a five-star hotel as well as all the comforts of a luxuriously appointed home. Part of the Grand Residences by Marriott program, this firm offers fractional ownership shares of prime real estate in the heart of one of the world's premier cities.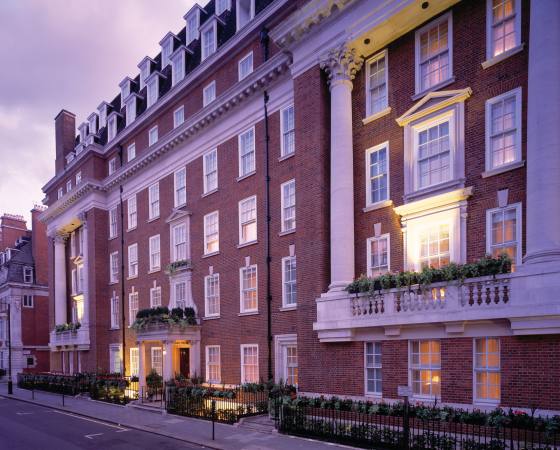 Stately Accommodations in a Historic Location
The residences are located in a historic 1927 Edwardian-style townhome that has been divided into 49 individual one- and two-bedroom suites that range from 549 to 1,023 square feet. The interior décor combines neo-classical and regency motifs to complement the exterior's traditional elegance. Luxury details include granite countertops, opulent furnishings, marble-finished bathrooms and a sumptuous living room with a fireplace and state-of-the-art entertainment amenities. As well, Villery & Boch cookware and china, Siemens appliances, DeWitt towels and robes are all provided for members' convenience during their stay.
Membership Benefits
Just like a five-star hotel, members can enlist the services of a dedicated staff available any time of day. A concierge can arrange dinner reservations, transportation and entertainment requests including theater tickets and access to some of London's exclusive private clubs. Additionally, valet, in-room dining and catering, and maid service are part of the 47 Park Street experience.
Through agreements with clubs and organizations in and around London, members can also take advantage of many exclusive benefits including:
• Premium access to The Royal Opera House performances—including exclusive tickets to opera and ballet productions, as well as "behind the scenes" tours and events;
• Complimentary treatments and preferred pricing at Spa Illuminata, a high-end day spa;
• Executive business services at Paisley-Tyler's 42 Berkeley Square including executive administration services, private meeting space, special event coordination and fine dining;
• Preferential choice of tee times at The London Golf Club, plus access to the club's driving range, clubhouse and Japanese bath;
• Use of health and fitness center facilities at The Club at the London Marriott Hotel Park Lane which includes an indoor pool;
• Significant dining discount at the London Marriott Hotel Park Lane;
• Three annual visits to Morton's, a private members club that features a restaurant, bar, club room and wine cellar that is also available for private hire and business meetings.
Own Part of a Luxury Estate in London!
Owners may purchase 21-day shares that offer flexible usage on either a daily or weekly basis. A dedicated member services team ensures a seamless reservations process for stays at 47 Park Street, which can be booked up to a year in advance. Each share ranges from £114,000 (US$183,500) for a one-bedroom suite to £270,000 (US$434,700) for a two-bedroom suite. Membership ensures the right to use one's residence for a selected number of nights per year (depending on the number of 21-day shares purchased) each year until 2050. Like any form of real estate, each fractional interest can be sold, bequeathed or transferred by the member. Members may also make any part of their share stays available to family, friends and associates.
In addition to the share purchase fee, each member is also required to pay annual dues, which vary depending on the residence and number of fractional shares owned. Included in these annual dues are each member's pro-rata portion of expenses which covers utilities, common area expenses, insurance, homeowners' association management fees, association-owned amenity operations and upkeep, and security. Fractional ownership also includes wall and floor maintenance of residence interiors and furniture replacement. Currently, annual dues range from £5,735 (US$9,347) for a one-bedroom executive residence to £6,516 (US$10,621) for a two-bedroom residence.
Designed for both leisure and business travelers who frequent London, Grand Residences by Marriott's fractional ownership program can provide significant financial advantages over whole-home ownership and luxury hotel suite accommodations. Members can also supplement ownership expenses by renting their residence through Marriott or through a management company of their choice. Additionally, through Marriott's Rewards Program, members can exchange time for stays in Marriott's global network of luxury hotels, including limited reciprocal use privileges at Ritz-Carlton Destination Club locations.