Whether you choose a Ritz-Carlton Home Club or a Portfolio membership, these oceanfront residences on Great Bay, St Thomas are one of your options.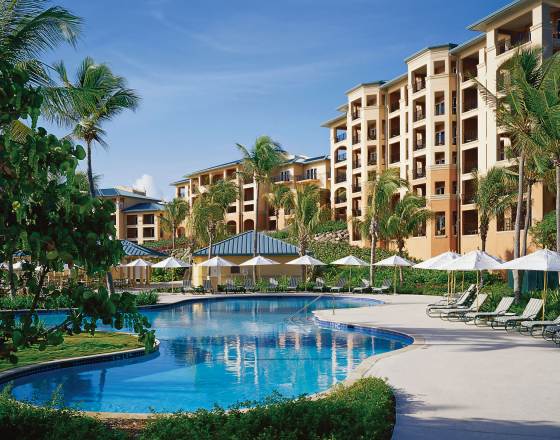 And it is quite an option – the luxury residences have either two or three bedrooms ranging in size from 1,500 – 1,910 square feet, all directly on the beach at Great Bay, where the view is a classic Caribbean panorama of gentle surf, palm trees and distant hills.
Each residence is fully equipped to meet your vacation needs, with fully-stocked kitchens, Turkish marble, cast-iron tubs, and full Wi-Fi access throughout your home.
Of course, this is just the beginning of the services on offer. As a Ritz-Carlton Destination Club member, your dedicated concierge will handle everything for you from the travel arrangements to pre-arrival provisioning of your residence. If you are a Home Club member, the Ritz-Carlton will be happy to store your things and have them unpacked, cleaned, and ready for use on your arrival.
With the neighboring Ritz-Carlton hotel, the combined resort offers a wide variety of amenities and activities. You can learn how to dive at the Patagon Diving Center, or enjoy one of the daily excursions on the Lady Lynsey, a 53-foot luxury catamaran. Relax and read by one of the two available pools, or spend some energizing time in the full-service Fitness Center.
These options are just the beginning. After all, you'll be in St. Thomas; with soft, white sand beaches, tropical forests, the championship-rated Mahogany Run Golf course, and nearby shopping at Charlotte Amalie, St. Thomas is one of the world's premier vacation destinations.
And don't hesitate to bring your children. While you're enjoying golf or other activities, your children will have a wonderful time on a half or full-day adventure with the Ritz Kids program. Kids activities can include summer sailing and windsurfing camps led by Paul Stoeken, a former Olympic windsurfer.
The resort has won high accolades, having been named the number one resort property on the island by Fodors and "Best Resort in the Caribbean" by Conde Nast Traveler.
The Details – Home Membership vs. Portfolio Membership
As a Ritz-Carlton Home Club Member, you will be entitled to a 1/12th interest in your St. Thomas residence. This allows you to schedule 21 days per season annually, based on a rotating calendar. You can also use time at other Ritz-Carlton Destination Club locations on a reciprocal usage basis.
Another option is to purchase a fixed interest. This is a deeded, fractional ownership in your residence that allows you to use it for the same weeks every year. A fixed interest membership allows you to set your own travel schedule independently of other owners' plans.
If you prefer the freedom of a Portfolio Membership, the residences in St. Thomas are available to you along with 9 other Ritz-Carlton Club locations. Portfolio members can also use their membership points for stays at over 70 Ritz-Carlton hotels and for exchanges with the Abercrombie & Kent Residence Club. Of course, your Dedicated Club Concierge will handle these details for you.
Pricing
As a guide, Ritz-Carlton Home Club Membership prices range from approximately $100,000 - $220,000 per deeded interest. Portfolio Membership enrollment pricing starts at approximately $100,000 for 5,000 Club Points, and members may purchase additional interests in increments of 2,500 Club points. After the initial purchase, Home Club annual dues run from $12,000 - $23,000 and Portfolio annual dues are $7,600 per every 5,000 Club points purchased.
If you're considering joining a club, this is the best place to start comparing the destination clubs.