With their promises of privacy, luxury and exclusivity, it is not surprising that destination clubs have moved to the top of A-listers vacation lists. Destination clubs provide spacious stand-alone homes offering privacy and personal service that even five-star hotels do not offer.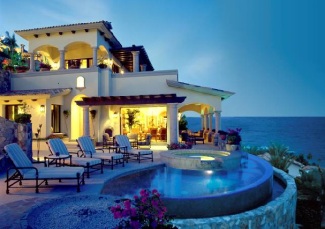 The club-like nature of these facilities also means that practically no special request is out of reach for guests, and club staffers acknowledge guests' likes and dislikes to make the club as much a home as possible - all reasons that celebrity guests including professional athletes and well-known moguls decide to join.
Several of the destination clubs we contacted have address books we'd like to get our hands on, but they ensure such great privacy for their members, that most clubs kept their lips sealed and simply confirmed that celebrities are members of their clubs.
The staff's commitment to member privacy speaks to just how seriously they take the protection of their clients personal lives. This commitment is precisely what makes destination clubs prime locations for celebrities and their families to enjoy tranquil vacations, without having to worry about paparazzi or sacrificing their confidentiality.
Quintess attributes its host of big name guests to the club's large, private homes in great places where they can enjoy memorable vacations and quality time with their families. Quintess offers high profile guests a good way to spend focused time with their family and relax away from their normal busy schedule. Quintess couldn't give us any specific named members, but noted that an anonymous East Coast celebrity prefers to catch quick weekend trips at their New York City location, or indulges in longer vacations at the Turks and Caicos club.
Portofino provides frequent vacation spots for professional baseball player Steve Trachsel, a member who appreciates the flexibility destination clubs offer. "I really enjoy traveling in the off-season," said Trachsel, "and I like the fact that I am not tied down to just one vacation home."
He has used his membership to bring friends and family to Cabo, Napa and New York City, to name just a few. "All the homes and experiences have been awesome," said Trachsel who earlier this year returned from the scenic vineyard of Portofino's Napa location. "In fact, I was planning to go back when I was called to head to spring training," Trachsel said. "You can bet I took a rain-check."
M Private Residences has a strict privacy policy to protect its members, but the Canadian-based company's client list includes NHL and NFL players, as well as media power players and business owners. Similar to other clubs, M members tout its privacy, top-notch facilities and easy reservations suitable for their busy lifestyles as the reasons they keep coming back.
Exclusive Resorts' celebrity members joined the club so they could vacation in privacy with their families. However, two notables stand out because they also have business development arrangements with Exclusive Resorts, in addition to their membership: Andre Agassi and Jack Nicklaus. Both are active in real estate development in resort destinations around the world, which makes for an ideal partnership for Exclusive Resorts.
"Exclusive Resorts is a one-of-a-kind club for families, and it provides a first-class experience for golfers and non-golfers alike," said Nicklaus, the designer of nearly 250 golf courses worldwide. "We have a distinct advantage in being able to provide Exclusive Resorts with insight into unique, high-end destinations and properties that will be a perfect fit for its members. I look forward to helping my fellow club members enjoy the great game of golf on some of the finest courses in the world."
Boston Celtics head coach Doc Rivers is a member of Ultimate Resort, and says he enjoys the club because it offers privacy, first class service, so many locations, and serves as a great place for his friends and in-laws to vacation. He did admit that he personally would like to use the clubs homes more often, but found it hard with his hectic schedule, and so his wife and mother-in-law had enjoyed a lot more vacations than he had. (Read our earlier article about family members use of club homes) Other noteworthy Ultimate Resort members include Davey Johnson and Chicago Bears offensive coordinator Ron Turner.
Private Escapes Platinum Member and Hall of Fame quarterback Steve Young said he uses his club membership to explore new places with his wife and sons. "Private Escapes Destination Clubs fit the bill perfectly because of its residences all over the world and stellar locations. We debated between buying another vacation home but this option was far too limiting - my family wants to travel where they want, when they want." And Private Escapes clubs let them do exactly that. Another factor that Steve mentioned was the lack of hassles compared to owning a second home - "no upkeep, taxes, broken pipes" - just enjoying vacation, which is a common comment amongst all destination club members.
Lusso Collection homes also host celebrity members, as they are vacation spots for pro golfer Tom Lehman and his family.
One Key World has hosted golfer Jim Furyk in its St. Barth's location, as well as Woody Austin in Hilton Head, South Carolina. Austin also chose One Key World for his accommodations during the U.S. Open.
Ciel Club celebrity members join because the club's philosophy, articulated by Ameritrade and Ciel founder J. Joe Ricketts, reflects their desire for privacy and anonymity. This anonymity makes Ciel a distinguished destination club for celebrities and their families, as well as for any other folks who seek a relaxing vacation.
The destination clubs certainly offer the privacy, personalized services and large luxurious family vacation homes that appeal to many famous members. From our discussions with many of the clubs it sounds like they have members who's privacy they just want to respect, which is why these members joined the club in the first place.