The final list of the top 101 largest yachts in the world according to overall length, has been revealed by BOAT International, a global superyacht magazine. The full 101 list appears in the January 2022 issue of BOAT International.
But here the SherpaReport includes the new five of the top ten. These new five underscore the bold identity of Northern European shipyards, as well as the evolving trend of yacht hybrid propulsion systems.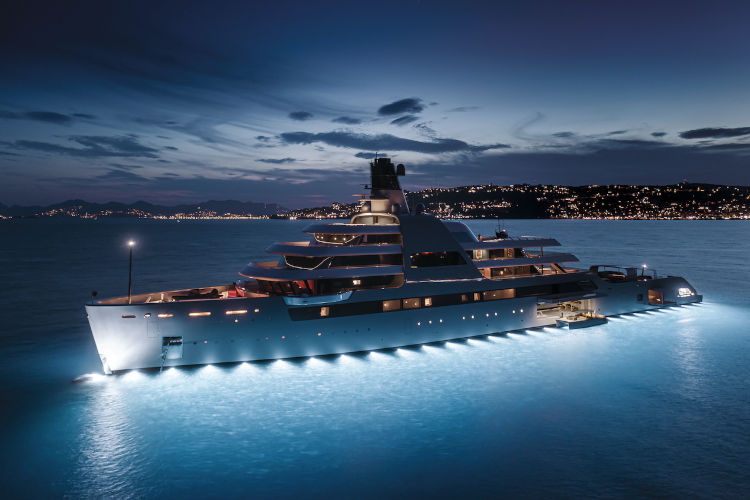 The largest boat delivered this year was 140-metre, nearly 500 feet, Solaris (pictured above).
It was built by German shipyard Lloyd Werft. The eight-deck yacht's exterior and interiors were designed by Australian Marc Newson. It has a grey-hulled exterior, and reportedly, has accommodation for 36 guests. Solaris is known to feature more than 2,000 square metres (21,527 square feet) of glass surfaces, including the largest panes ever built into a yacht. Glass is also incorporated in the main deck pool where the floor lights and transparent surface showcase the beach club below. The yacht is driven by eight MTU ( high speed diesel) engines which will achieve more than 18 knots, or approximately more than 20.7 miles per hour.
Twenty-five metres (82 feet) shorter, 115-metre (377 feet) Apho was delivered to a repeat client by Lürssen. The owners enlisted Nuvolari Lenard for the yacht's interior and exterior design. The family-focused, eco-sensitive yacht features seven cabins, including a 200-square-metre (2,152 square feet) owner's duplex suite. There is an 80-square-metre ( 861 square feet) gym on the top deck. Other features include a dining room decorated by a wine display, and a wellness area with a pool filled with water warmed by the used heat captured from the generators.
It was a great year for Feadship, the Dutch shipyard, as they are responsible for the other three yachts to break into the Top 101 – 94.75-metre ( 311 feet) Bliss, 94-metre (308 feet) Viva and 88.38-metre (290 feet) Zen.
The Bliss was designed with the "leave no trace." vision. It is powered by diesel electric propulsion, with the option to run on pure electric power, thanks to a large battery bank. It also has a positioning system to ensure that the vessel doesn't damage the seabed by dropping anchor. With a Polar Coded hull, Studio de Voogt did the boat architecture, while Remi Tessier was responsible for the interior, which includes nine cabins. Built for an active family, Bliss has exterior deck spaces with a large pool and a commercially certified helideck that converts into a full sports and games deck.
With a length overall, or LOA, just a few centimeters shorter than Bliss, Viva is a very different boat, with long, clean lines that feel nearly architectural. New York designer Peter Marino – most recognized for his work on flagship stores for the likes of Armani, Chanel and Louis Vuitton – was responsible for the yacht's beach house-style interior.
Completing the group, Zen was the first yacht to be built at Feadship's newest shipyard, west of Amsterdam. As with Bliss, Studio De Voogt was responsible for the exterior, that includes a classic white hull with clean lines and an abundance of dark glass. The interior was designed by Italy's Nauta Design, and what has been revealed through photos of the exterior, is that it has a large swimming pool aft, a forward-facing Jacuzzi on the sundeck, and a circular, sunken lounge area in the foredeck. The bridge deck also features a vast amount of private exterior space under the cover of the sundeck. Reports suggest that the boat will accommodate 16 guests and 25 crew.
These five yachts mark exciting additions to the superyacht fleet.
But 2022 also looks to be an exceptional year.
Among the most notable expected to be delivered is a127-metre (416 foot) sailing yacht, Project Y721, reportedly commissioned by Amazon founder Jeff Bezos. It will become the largest sailing yacht in the world. Project Y721 is but one of four 100-metre plus (328 plus feet) yachts expected to be delivered by Dutch yacht builder Oceanco next year.