VistaJet founder Thomas Flohr vowed to redefine private aviation when the company was established in 2004. Last week he placed the largest single transaction in the history of business aviation. The firm order for 56 new Bombardier Global aircraft with options on a further 86 Globals has a list price tag of more than $7.8 billion.
Bombardier Wins Big
It's been quite the year for Bombardier Business Aircraft, with the agreement marking its second significant win, having also been the recipient of the $7.3 billion order of its Challenger aircraft from Netjets. And in 2011 Netjets also placed firm orders for 50 Global business jets with options for an additional 70 Global aircraft.
While the purchases of private aircraft had cooled significantly during the recent recession and global financial crisis, Fadi Chamoun of BMO Capital Markets noted, "These orders reinforce the outlook for solid growth in production rates in the large-cabin business-aircraft segment over the next several years."
Bombardier President, Steve Ridolfi remarked in a statement, "By any standard, this is an historic order for Bombardier." Investors agreed. Toronto-listed shares of the company rose by 8.01 percent overnight.
VistaJet's Expansion
The company's order includes 25 Global 5000, 25 Global 6000 and six Global 8000 jets in addition to options for 40 Global 5000, 40 Global 6000 and six Global 8000 jets.
This order confirms VistaJet's continued expansion and ambitious plans to make business aviation more accessible to emerging markets – just this year VistaJet added the 50th aircraft to its fleet. The company has carried 25,000 passengers on 10,000 single international flights in 2012. Its service area includes Europe, Africa, the Middle East and Asia Pacific as well as East Coast America, with operations in London, Moscow, Malta, Dubai, Lagos, Beijing, Hong Kong, Kuala Lumpur, and Salzburg.
Flohr highlighted the importance of the order, explaining that it is the "most significant milestone for VistaJet," and a testimony to their "successful strategy that focuses on global coverage."
VistaJet has also been growing its already large business aviation flight crew rosters worldwide in order to ensure that it has flight crew availability 24/7 anywhere in the world. In addition, they've doubled their dedicated sales force across emerging markets to establish further presence and support for existing and new customers.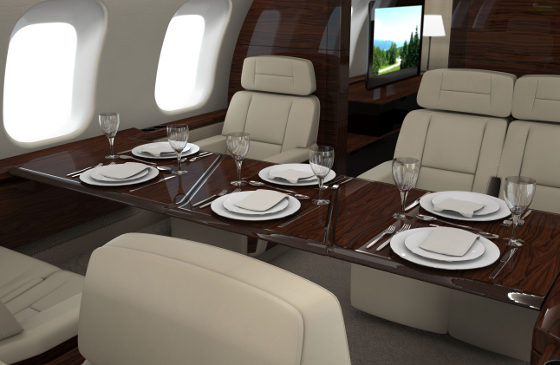 VistaJet Customers
This huge order will also positively impact VistaJet customers with passengers offered quicker than ever flights between such cities as London and Singapore, Hong Kong and New York, Moscow and Perth and many more.
Global 5000 planes seat up to 17 passengers and have a maximum range of nearly 10,000km, connecting San Francisco with Seoul and combining superior transcontinental speed with the largest cabin in its class, while the Global 6000 aircraft offers high-speed range capability and traveler comforts that include a stand-up shower and the latest in technology. It will whisk travelers from London to Tokyo or Mexico City, non-stop.
With the world's farthest range when it comes to executive jet travel, the Global 8000 aircraft (pictured above) will have a range of 7,900-nm (14,631-km). It will fly up to 19 passengers in ultimate comfort between cities like Mumbai and Toronto as well as London and Adelaide.