For 20 years, Tradewind Aviation has been providing private air charter services in the northeastern US, the Caribbean, and further afield. Recently they earned fifth place in the coveted Conde Nast Reader's Choice Awards for best airline in the United States, a first for any private aviation company. The SherpaReport spoke to founders Eric and David Zipkin recently to learn more about the company.
Background
The Zipkin brothers grew up with a father who loved both flying and entrepreneurship. From an early age, they loved to fly and both earned their pilot license as soon as they were able. After the terrorist attacks on September 11, 2001, it became clear that air travel would change significantly. With the extra security measures, long lines, and decreasing service, flying commercially was much more difficult. That was when the Zipkins realized there was a need for getting the flight experience back to what it once was – worry-free, comfortable, and with quality service.
At the same time, they noticed a gap in the market. Regional air travel, specifically short-distance flights, was largely ignored by both commercial and private companies. What flights were available often lacked the same level of convenience and comfort that longer flights offered. The brothers bought a Cessna Grand Caravan and began to offer private charters. Tradewind grew from there.
After a year or two of operations, the Zipkins introduced their shared charter service. This was in response to many clients all flying between the same destinations at the same times, typically from Nantucket to New York at the beginning and end of the workweek. Three years after that, they introduced flights in the Caribbean, following the same short distance model that had proved so successful in the northeast. David says, "Travelers were often paying to stay at luxury destinations such as St. Barths, but the only means of getting there was far from luxurious. We remedied that."
Tradewind is now the single largest operator of non-commercial shared charter flights in the Nantucket and Martha's Vineyard region, with 80% of the market.
Aircraft
Tradewind Aviation has grown to a fleet of 24 aircraft, primarily Pilatus PC-12s and Citation CJ3s.
The Pilatus PC-12 turboprop is ideal for the short flights that make up most of Tradewind's shared charters. It has a cruising level of 20,000 feet, a cruise speed of 300 mph, and a range of 1,700 miles. Best of all, it needs a runway of only 1,800 feet. Tradewind has two classes of the PC-12. Their Executive model seats 6-8 people in a club style and has a baggage capacity of 40 cubic feet. Their Commuter model seats 8, all facing forward. It has a larger baggage capacity of 100 cubic feet.
Meanwhile, the Citation CJ3 light jet has a cruising level of 45,000 feet, a cruise speed of 525 mph, and a range of 1,875 miles. Its minimum runway length is 3,600 feet. It can accommodate 6-7 passengers and has 65 cubic feet of baggage room.
Charter
Tradewind Aviation has its own fleet available for charter. The company also brokers mid-size and larger jets for longer journeys. As the owner-operator of their fleet, Tradewind can offer simplified pricing with no middleman. There are no membership fees or lengthy commitments required for chartering. Nor are there any blackout dates. Travelers can either fly on a pay-as-you-go system or with the Goodspeed Jet Card Program (see below).
In addition to their most popular charter routes in the New England area and the Caribbean, Tradewind's charters are popular for trips to Canada, Florida, the Rockies, Chicago, and California.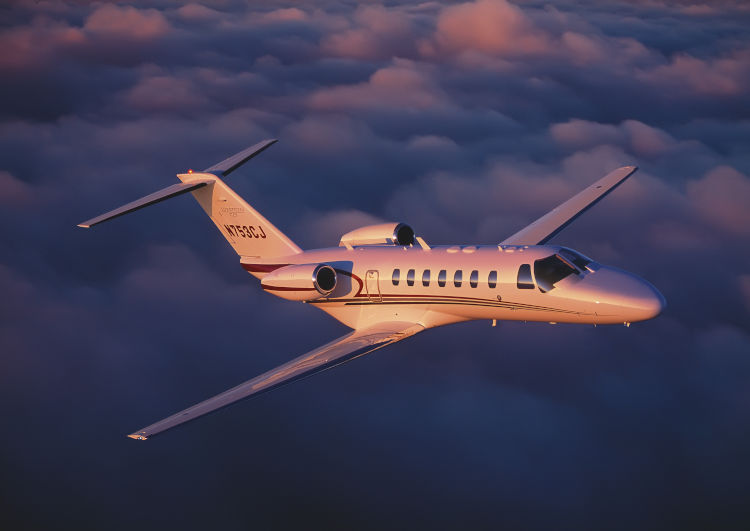 Shuttle Flights
David Zipkin says they have their customers to thank for the company's shuttle program: "Many of our charter clients were traveling between the same locations at the same day and time. Eventually, they came to us and asked if they could all share a plane and split the cost." Now, Tradewind operates up to 30 shuttle, or shared charters, per day between New York and Nantucket alone.
The shuttle flights depart from private FBO terminals, allowing clients to avoid long TSA lines and the crowds in commercial terminals. They can relax in the private lounge before departing directly onto the aircraft. In some locations, they can go directly from the plane to a car waiting for them on the runway. There are no fees for changing an itinerary or for luggage. Pets are also welcome at no extra charge.
The other key shuttle service area is in the Caribbean with what Tradewind calls "First Class Island Hopping". Passengers can take a PC-12 between St. Barths, Anguilla, and Antigua. There is plenty of room for luggage and complimentary refreshments are provided. The flights allow for easy but comfortable connections from the major airlines to your final island destination. Some flights go via San Juan, which allows passengers to deal with immigration there rather than at one of the major U.S. airports.
A private shuttle service is also available, offering the opportunity to book an entire plane for your group at a lower rate than you would pay for a charter. Private shuttles may be secured with the purchase of 5 tickets.
Card Program
Tradewind's Goodspeed Jet Card Program can be used for flights in the northeast and the Caribbean. Members fly on the Pilatus PC-12 and pay only for flight time. The card has no initiation or membership fees, no blackout dates or peak surcharges, and no repositioning fees. Cardholders also get discounts on the Tradewind Shuttle and Citation Jet charters. Additional charges are incurred if de-icing is needed, for any after-hours fees or catering, and for landing or takeoff from class B airports.
Three levels of card are available:
| | | |
| --- | --- | --- |
| Card Level | Hours | Hourly Rate |
| Goodspeed 10 | 10 | $4,100 |
| Goodspeed 25 | 25 | $3,950 |
| Goodspeed 40 | 40 | $3,800 |
Trends/Demand
David also addressed how the covid pandemic has affected his business. As mentioned by other private aviation operators, the pandemic saw a large number of people working from home and so both business and leisure travel dropped significantly. However, when people did start flying again, private aviation providers saw numbers boom as health and safety issues led many to explore alternatives to commercial flights and busy terminals. David expects that this boom will eventually dip but says that the number of people flying privately will remain far above pre-pandemic levels. He commented, "They came for the health and safety aspect, but stayed for the quality service." Incidentally, all Tradewind pilots are fully vaccinated and, as of November 1, all ground and flight crew will be fully vaccinated.
Business travel for Tradewind has picked back up again but in different ways to before the pandemic. With more people working from home, a lot of people relocated permanently to their weekend or holiday homes in Newport, Nantucket, and Martha's Vineyard. Whereas they previously would fly into the city at the start of the workweek and return home on Fridays, they are now more likely to make quick trips into New York for meetings during the midweek. As a result, what were once the quieter days for traveling are now among the busiest.
Demand may be picking up but a problem throughout the airline industry at the moment is supply. Supply chain issues, staff shortages, delays in building new aircraft, and pilot shortages are all coming at a time when more people than ever want to enjoy private air travel. Business is booming… if the companies can keep up with the supply. Some larger companies such as NetJets and Sentient have had to put their jet card programs on hold until the problems ease. David says that, so far, Tradewind Aviation, has been fortunate to avoid those issues; they recently bought 2 new planes and are looking for more. They have also hired 50% more new pilots than they did in 2020. However, he says that, like their competitors, they will watch the situation closely. "Fortunately", he says, "by operating with smaller planes on shorter routes we are able to offer multiple charters and shuttles throughout the day with each aircraft."
The Next 20 Years?
With 20 successful years under their belt, what is next for the Zipkin brothers and Tradewind Aviation?
They are exploring expansion opportunities along the Eastern seaboard, particularly other business routes. With the nature and location of work changing because of the pandemic, David says it is wise to wait on some plans, but they expect to make exciting announcements within the coming years.
The company is also eagerly watching to see what happens with the market for electric airplanes. Eric says, "From the start, we have been a part of the evolution of private aviation from a luxury to a utility, and we will continue to innovate as our market grows."