Elite sports are big business, and getting athletes from tournament to tournament - beyond the glare of cameras, and without the hurry-up-and-wait of commercial airport travel - has become increasingly complex. This is why many teams now choose to charter large aircraft, and turn to experienced brokers and charter firms to transport them from city to city efficiently and comfortably.
The market in the USA is dominated by collegiate and professional athletes, plus their coaches and support staff. Most sign multi-year contracts, to ensure that the planes they want to use are available during their competitive season. Because game schedules are typically known well in advance, they're able to book a minimum of four months ahead.
By flying into quieter regional airports and using private terminals, teams can often arrive closer to their final destination, helping the players avoid any hassles and allowing them to stay more relaxed and ready to compete.
Planes
Collegiate basketball teams tend to prefer aircraft on the smaller end of the scale, such as the Embraer 135 with 37 coach seats, the Embraer 145 with 50 coach seats, or the Bombardier CRJ-200 with 50 coach seats. Larger teams with bigger budgets, such as those in the NFL, NBA, and NHL, most often go for Boeings: the 737-800 (65 first-class seats, or a mixed configuration of 24 first-class and 126 coach seats), the 767 (100 first-class seats, or a mixed configuration of 24 first-class and 180 coach seats), the 757 (68 first-class seats), or the 737-400 (64 first-class seats, or a mixed configuration of 12 first-class and 138 coach seats).
Simon Moore, Vice President of Commercial Jets for Air Partner, notes that the larger and better-funded the team, the more bells and whistles they request. Premiership European soccer teams on transcontinental flights, for example, often want a larger number of business-class seats and VIP configurations. Others book aircraft with all-lie-flat seats, such as the Boeing 767-300 ER (96 seats).
"What they're mostly looking for is point-to-point travel to the closest municipal airport to where they're playing," Moore says. "They also want to be comfortable, and if they're carrying a lot of equipment, they'll need an aircraft with a larger cargo capacity."
When Delta Air Lines signed a deal to carry 27 of the 30 NBA teams, they dedicated 11 customized Boeing 757-200s. Prior to this deal, Delta had provided Airbus A319s to the NBA. Customization in the Airbus jets included swiveling business-class seats that had up to 5 feet of pitch.
Pricing
Flights on the different Boeing aircraft vary from $9,000 to $11,000 per hour for the B737-400 and B737-800 to $15,000 per hour for the B757 and $18,000 per hour for the B767. The Embraer 145 and CRJ-200 run about $7,000 per hour. Pricing includes fuel and standard catering and drinks. Taxes and fees, international fees, repositioning and overnight costs are additional charges.
Because maintenance is charged on cycles - every time the aircraft hits the ground, another cycle begins - this makes large-jet charters more economical when they fly for five or more hours. But many teams are willing to pay the price, if it means added comfort and the flexibility to accommodate their demanding schedules.
Customizations
Well-heeled teams frequently ask for more extras. Premium or custom catering is the most common request, followed by aircraft branding, both in the form of logoed amenities inside, such as napkins, blankets, pillows, headrest covers, and toiletries, and decals on the exterior. "If you're flying on a tour or for a season, your plane is going to be grounded a lot of the time; it's advertising to thousands of people. A logo on the tail says, 'We're here and we're the champs,'" notes David Goodman, Chief Revenue Officer of Private Flight Advisors.
Other popular requests include an open bar, a hospitality table with snacks and drinks at the airport or gate, boarding cocktails, and vehicle parking. If the athletes are traveling with their families, they may request a "fun bag" for kids, complete with a stuffed toy, crayons and coloring books, puzzles, or snacks.
No matter whether the charter is basic or highly customized, the plan is always to get the athletes and their staff from point A to point B efficiently, with minimal time wasted at airports and a guarantee that they'll always land in a place that's most convenient to their location. This means more time spent doing what they do best: playing the game.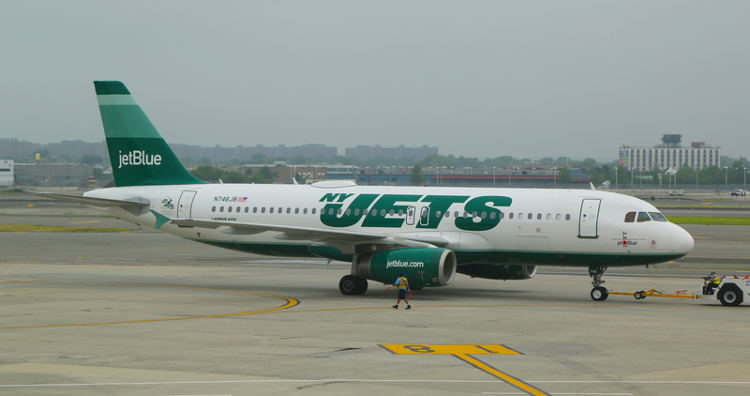 Aircraft Ownership
Last year, the New England Patriots became the first NFL team to buy their own planes. They purchased two older wide-body Boeing 767's. These models have pretty much been retired by the commercial airlines, because they are expensive to operate compared to more modern, fuel efficient designs. This makes them cheap to buy, even though they are more expensive to operate. For the Patriots, who have just 8 regular season away games, the jets can make economic sense.
Several years ago, Mark Cuban, owner of the NBA's Dallas Mavericks, bought a Boeing 757 to transport his team around. He noted "When you are on the road as much as an NBA team has to be, the ability to be comfortable, get rest and have enough room for basic treatment of physical problems gives us a competitive advantage."
It's not just the teams, sports fans also use private planes to travel to games. The superbowl sees thousands of private jets flying into the host city. And many of the big college games attract a good number of private jets.