The destination is remote, exotic...the perfect retreat. Sometimes however the more exclusive the locale, the more challenging it can be to get there. Some desirable locations have small airports and even smaller runways. Others can be nestled in areas surrounded by mountains, water or cliffs, making it a challenge for pilots to access them. Combined with all this, many of these locations can have extreme weather conditions that add to the challenges.
So before you fly, make sure the plane you are going to use can land safely at your destination runway. All the fractional operators, charter operators and charter brokers will help identify the right aircraft for your mission, including making sure it can land where you want to go.
As an example, we recently spoke to someone who has a home on Block Island in Rhode Island. The runway (at KBID) is only 2,502 feet long (763m). He already owned a jet card, but the card provider didn't have aircraft small enough to access this airport runway. So he needed to work with another provider, that offered turboprops, which could get in and out on a runway of this length.
Let's take a look at some of the more interesting locations with challenging airport runways and surrounding conditions. Then we will compare the takeoff and landing capabilities of several aircraft to get an idea of what kinds of aircraft can navigate some of these more challenging runways from around the world.
The Airports
Courchevel Airport, France
Courchevel Airport (CVF), Saint-Bon-Tarentaise, France: Surrounded by mountains (as you can see in the image above), Courchevel Airport in the French Alps is one of the most challenging airports to get in to. It has a single, very short runway 4/22: measuring only 1,762 ft (537 m). Additionally, the runway has an 18.6% gradient, making it even more treacherous for planes to safely get on and off the strip. And yes, in the image above, that line in the middle, towards the bottom of the image is the runway. The runway must be accessed directly on the first try, with no go-around procedures permitted due to the surrounding mountainous terrain. The airport sees a few turboprops attempt landings and take-offs; however, smaller fixed-wing aircraft and helicopters are better able to access the airfield. Pilots are required to obtain a special certification to use this dangerous runway.
Aspen, Colorado
Aspen–Pitkin County Airport (ASE) is three miles from Aspen, Colorado. It has one asphalt paved runway designated 15/33 which measures 8,006 by 100 feet (2,440 x 30 m). The surrounding mountains and the winter weather can make this challenging for pilots. The airport has a 95 ft (29 m) aircraft wingspan limitation and aircraft weight is restricted to 100,000 pounds (45,000 kg) maximum certificated gross landing weight.
Vail & Beaver Creek, Colorado
Eagle County Airport (EGE) has a single runway 7/25 9,000 ft (2,743 m) with an asphalt surface. It is not the shortest runway we will mention, but it can be one of the more challenging to navigate due to its elevation and mountainous terrain, weather unpredictability, and challenging departure procedures. The airport serves several of the major Colorado ski resorts, including Vail and Beaver Creek, so it is busiest during the winter months. With its extended runway it now takes flights from some of the larger commercial carriers, as well as seeing a lot of private jets.
Barra, Scotland
Barra Airport (BRR) on Barra Island in the Outer Hebrides, Scotland is the only beach runway in the world able to handle scheduled airline services (which vary with the tide). The three short runways on Barra's Traigh Mhor's sandy beach are covered by the tide twice daily. Because of how extreme the conditions are, the airport is only open for a few short hours every day.
Barra's runways:
07/25: 2,621 ft (799 m) on sand
11/29: 2,231 ft (680 m) on sand
15/33: 2,776 ft (846 m) on sand
London City Airport
London City Airport (LCY), London England: Even though this airport is in close proximity to the City of London, its single runway is too small to handle large aircraft. Additionally, pilots and accompanying crew must have a special certification to land on runway 09/27 which is only 4,948 ft (1,508 m) on a grooved concrete surface. As you can see in the image above, the airport was built in the old "docklands" port area for London, and there are water filled docks on both sides of the runway.
All aircraft using the airport must be of an approved type capable of making an approach at 5.5 degrees or steeper (this compares with 3 degrees at most other airports). Only multi-engine, fixed-wing aircraft can gain access to this airport, single engine aircraft are not permitted. Approved private jets include the Falcon 7X, the Bombardier Challenger 605 and the Citation Sovereign.
Gibraltar
Gibraltar International Airport (GIB) or North Front Airport: The most unique part of this airport is that Gibraltar's main thoroughfare, Winston Churchill Avenue, crosses over the airport runway and must be closed (much like a railroad crossing or a draw bridge) each time a plane takes off or lands. The runway 9/27 is 5,511 ft (1,680 m) on asphalt and is long enough to handle commercial Airbus A 320's. The airport was strategically placed in between a mountain and a town on the only level ground available for such operations. In addition to the roadway, and the large, mountainous rock of Gibraltar, the other challenging feature is the runway extends out into the Mediterranean sea.
Saba, Caribbean
Juancho E. Yrausquin Airport (SAB), Saba, Caribbean Netherlands: This paradise-like island is a dream vacation. But getting there is another story. It is host to the world's shortest runway - see the video above - only a mere 1,299 ft (386 m). Because the runway is only slightly longer than an aircraft carrier runway, it is only accessible by helicopters, some turboprops and smaller piston aircraft. Surrounded by ocean and mountains with steep 60 ft cliffs dropping into the water on both ends, this runway is quite difficult to navigate.
St Maarten, Carribean
Princess Juliana International Airport, St. Maarten, Caribbean Netherlands: Another Caribbean Netherlands airport worth mentioning is located on the Dutch side of St. Maarten. The airport itself is a tourist attraction since planes fly dangerously close to the shore and thrill-seeking sunbathers on Maho Beach. Both the approach and take-off for this runway leave no room for error. Approaching over water under visual flight rules can mess with the perceived altitude and disorient pilots flying in over this short beach. The take-off also presents interesting challenges due to a necessary turn to avoid mountains in the departure path. The details for runway 10/28 are: 7,546 ft (2,300 m) on an asphalt/concrete surface.

St Barts, Carribean
Saint Barts, Gustaf III Airport or St. Jean Airport, Caribbean: The Caribbean island of St. Barthélemy has a lone runway with several challenges for arrivals and departures. Arriving aircraft must navigate a very steep descent over the hilltop traffic circle, while departing flights takeoff over sunbathers on the beach at the end of the runway. Consequently, only small aircraft can access this small airstrip, most carry 20 or fewer passengers. Runway 10/28 is 2,133 ft (650 m) long on a concrete surface.
Nantucket, Massachusetts
Nantucket Memorial Airport (ACK), MA: The island retreat of Nantucket, with its pristine beaches and early 19th century New England seaport charm, contains three shorter runways. The airport is busiest during the summer season when visitors arrive by commercial airlines, local air taxis and by private aircraft. The days in July and August can see over 600 take offs and landings. With a main runway at over 6,300 ft, it can accommodate most private jets. The main runway is 800ft longer than on neighboring Marthas Vineyard, so there's more scope for larger private aircraft getting onto Nantucket.
Runway 6/24: 6,303 ft (1,921 m), asphalt surface
Runway 12/30: 2,696 ft (822 m), asphalt surface
Runway 15/33: 4,000 ft (1,219 m), asphalt surface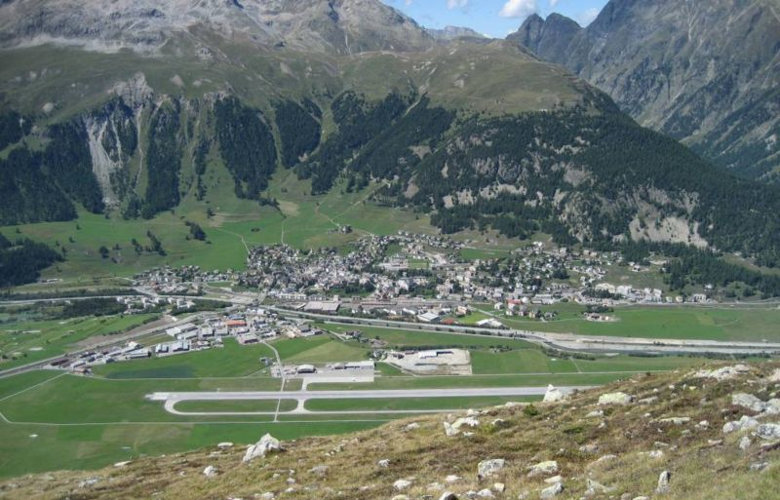 St Moritz, Switzerland
Samedan Airport or Engadin Airport, near St. Mortiz, Switzerland: Engadin airport - pictured above - sits at an elevation of 5,600 ft (1,707 m) above sea level. Due to the thin air at this altitude, challenging topography, and extreme winds, it is deemed one of the most testing airports in the world. Its single asphalt runway 03/21 is 5,905 ft (1,800 m) long. The airport is not equipped with an instrument landing system and does not have scheduled passenger flights, only general aviation traffic with smaller jets and propeller aircraft. Pilots must take an online test prior to flying into Engadin.
Aircraft Takeoff and Landing Capabilities
One thing is clear, many of the airports listed above require smaller aircraft to access them. For some of the airports above, even a light jet requires too much runway, so you'll need a piston engine or turboprop.
The table below shows several private aircraft and their corresponding takeoff and landing distances. The shorter takeoff and landing capabilities of many private aircraft allows them utilize some of these highly desirable airport locations.
| | | | |
| --- | --- | --- | --- |
| Aircraft | Type | Take Off Field Length | Landing Distance |
| Britten-Norman Islander | Piston | 1,218ft (371 m) | 980ft (299 m) |
| Twin Otter DHC-6 | Turboprop | 1,200ft (366 m) | 1,050ft (320 m) |
| Pilatus PC-12 | Turboprop | 2,600ft (793 m) | 2,170ft (661 m) |
| King Air 350 | Turboprop | 3,300ft (1,006 m) | 2,692ft (821 m) |
| Citation Mustang | Personal Jet | 3,110ft (948 m) | 2,380ft (725 m) |
| Phenom 300 | Light Jet | 3,138ft (956 m) | 2,621ft (799 m) |
| Challenger 300 | Mid-Size Jet | 4,835ft (1,474 m) | 2,710ft (826 m) |
| Gulfstream 450 | Large Jet | 5,600ft (1,707 m) | 3,260ft (994 m) |
| Falcon 7X | Large Jet | 5,710ft (1,740 m) | 2,070ft (631 m) |
For the Britten-Norman Islander, the Twin Otter and the Pilatus PC-12, the take off and landing distance are those required to clear 50 ft (15 m). The actual take off distance can be shorter, for instance the Britten-Norman Islander only requires 621 ft (189 m) for ground roll on take off, and just 459 ft (140 m) for ground roll on landing.
For all these aircraft the actual take off and landing distance will vary with conditions, and with the weight of the loaded plane. So fully loaded, heavier planes, will require more distance to take off. That's one of the reasons why your operator will ask you how many people are travelling, and how much luggage they are bringing. This helps to gauge the right aircraft for the mission, including which aircraft can access the airports you want to reach.
The images of St Barts airport is courtesy of st-barts.com.