The large private jet operator, Qatar Executive, has launched a pre-purchase fixed-hourly rate jet card type program called The Diamond Agreement. This provides access to Qatar's fleet of long-range and ultra-long-range private jets.
50 Hour Minimum
To join this program, customers purchase a minimum of 50 hours flight time, with each agreement tailored to the individual customer's needs and requirements. The all-inclusive and fixed-hourly rates cover both flight hours and taxi time.
Pre-purchased Diamond Agreement hours have no minimum annual usage and no maximum carry-over, making the Diamond Agreement program very flexible. Qatar Executive's customers are also offered guaranteed availability for reservations booked from just 72 hours in advance. The program also offers further discounts for longer lead bookings and scheduled return flights within a few days.
Other features include:
No peak or black-out dates
Onboard internet usage
De-icing charges included
Inflight catering
Pets and smoking allowed
Cabin crew on all aircraft
ISBAO, Wingman and Argus certified
The Aircraft
Qatar Executive currently operates a fleet of 18 state-of-the-art private jets that includes Gulfstream G650ERs, Gulfstream G500s, and Global 5000 aircraft. It is the proud launch customer for Gulfstream's new flagship jet, the Gulfstream G700. The G700 will be powered by two Rolls-Royce Pearl 700 engines, can fly 7,500 nautical miles/13,890 kilometers at Mach 0.85 or 6,400 nm/11,853 km at Mach 0.90.
The cabin in the G700 offers an extra-large ultragalley with lounge or crew compartment, up to five living areas and a large, bespoke master bedroom with ensuite master bath.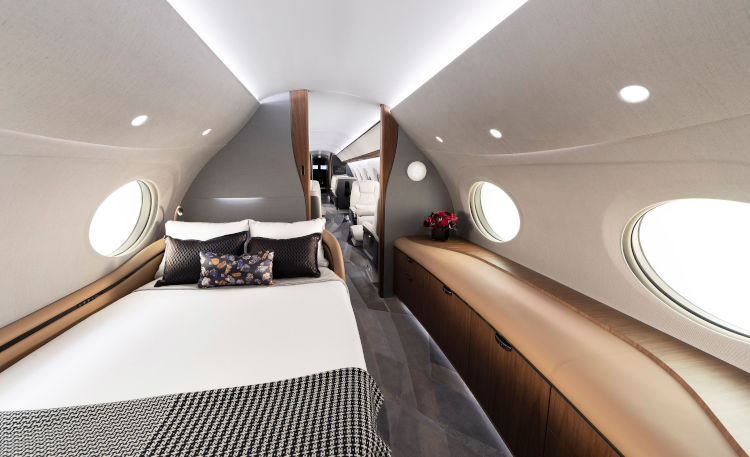 Qatar Executive's Acting Executive Vice President, Mark Hardman, said: "We are truly delighted to launch our bespoke Diamond Agreement, which is tailored to suit the exact travel profile of both corporate and private clients. The programme offers the ultimate in flexibility at a fixed price. Furthermore, we understand that as a result of the COVID-19 pandemic, clients are looking for versatile, high-quality services from a reputable and financially secure operator."
Qatar Executive is part of Qatar Airways and was founded in 2009. It serves individuals, businesses, corporations and governments. Its planes fly to more than 400 airports around the world, both in rural and urban centres. The company told SherpaReport that some of the key destinations over the last six months have been: Los Angeles, New York, Geneva, Moscow, Maldives, Seychelles, Istanbul, Bodrum, Erbil, Karachi, Manila, Singapore and Doha. The company says its average sector time is over 5 hours, so customers are really making use of these big planes for longer flights, and Qatar Executive are currently seeing a 65:35 ratio of business and leisure travel respectively.
"We expect to see many new clients to the private jet market," Mark Hardman told SherpaReport. "The Diamond Agreement was designed to simplify private jet travel. During these unprecedented times, travel requirements often change and as such, our customers can rely on us for a bespoke service, with unused hours being refundable at any time."
"We have actually been busier this August compared to the same time last year. As of 23rd August 2020, Qatar Executive's performance has increased by 11 per cent already in comparison to August 2019," notes Mark Hardman.