SherpaReport sat down with Jim Segrave, founder of LGM Enterprises, flyExclusive's parent company. We talked through expansion and growth at the large jet charter operator, the impact of COVID and future plans.
Background
Jim Segrave founded his original charter aviation company, Segrave Aviation in 1994, and built it up before selling it to Delta Private jets in 2010. Jim stayed at Delta for two years as President of the private jet company.
In 2015, he launched flyExclusive and in a few short years has grown it to be one of the largest Part 135 private jet charter operators. The company has a fleet of over 75 aircraft comprising mainly Cessna Citation jets, with a few Gulfstream IV's for longer trips.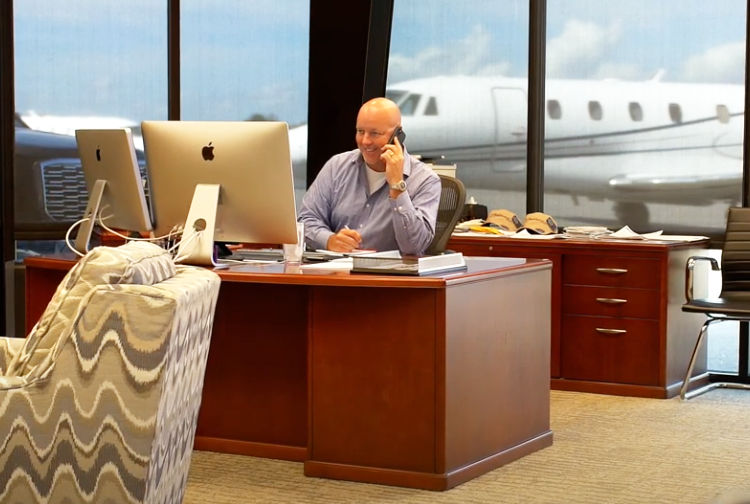 Aircraft
The mid-size Citation Excel/XLS is the core of the flyExclusive fleet, which includes over 30 of these 7-8 passenger jets. Other aircraft include the Citation Encore and CJ3 light jets, and Citation X and Sovereign mids and super-mids.
"We expect to be at over 100 planes by Q1 2022" said Jim, then added "and at 125 to 130 by the end of 2022."
"In the long run we can build to 300 - 400 planes," he continued.
Currently, the largest demand is for light jets, which make up as much as 70% of the flights in the flyExclusive jet club program. Jim also noted that the mid-size jets have "almost unlimited" demand for the moment. Overall, this market demand made flyExclusive the 4th largest charter operator in the last quarter according to Jim.
The company brought its first Gulfstream IV's on board in February 2020, which Jim half-joked was not perfect timing, because a month or so later COVID shut down most long distance travel and pretty much all International flights. However, with the dramatic resurgence of private aviation, these larger aircraft are seeing a lot of use, and there are now seven of them in the fleet, and Jim Segrave expects to have about 25 of them in 2 years' time.
Partners Program
Many of the aircraft in the fleet are owned under a partnership model, whereby a third party "Partner" owns a fraction or all of the plane. Overall, about 60 - 70% of the planes are in this partnership structure and the balance are wholly owned by flyExclusive. Jim explained that when he looks at the aircraft even he doesn't know which ones are wholly owned and which ones are partially owned, since they are all treated the same way.
For the partner owned aircraft, the company effectively has a triple net lease structure, so takes care of all the operations and maintenance, and even when the owners fly, it is on a model structured similar to the Jet Club program (see below). "It's an elegant, clean design," said Jim "owners love it." It certainly sounds popular, since the company even has a waiting list of potential buyers who want to join the Partner program.
As each aircraft is acquired, whether it's a partner or wholly owned aircraft, it is brought up to a standard fleet wide condition and appearance. They are all given the same paint scheme, with Jim noting "we are about one year away from having all the planes with consistent paint and interiors."
Revised Jet Club Program
The company has had a jet card type program, that it calls, "Jet Club", for several years. The structure of the program has just been revised to a rather unique model, which consists of a base daily rate and then an hourly usage rate, plus a flat $1,000 per month membership fee. The daily and hourly rates vary by both the size of the aircraft you want to use and by the amount of upfront deposit, with initial deposits starting at just $75,000.
For example, a flight from Teterboro, NJ to Naples, FL on a mid-size Citation XLS would have a flat base daily rate of $8,500, then an hourly usage charge of $3,400, for a total trip charge of $17,680 (= $8,500/day + $9,180 for 2.7 hours of flight time). These figures are based on a deposit of $150,000.
The standard notice period for these rates is 96 hours, with fixed premiums for shorter call out periods or for flights on one of the 20 peak days or 25 high demand days. The previous structure for Jet Club was a more common fixed hourly rate, and with this new structure the breakeven between the two models is for flights of about 2 hours, which also happens to be roughly the average stage length that the fleet flys.
In this new model, there are no minimum flight times, so you could do trips of say just 30 minutes, but be aware you pay the full daily rate and then just a fraction of the hourly rate. The pricing in this model works very favorably if you are doing longer trips, or if you do multiple stops during the day.
Usage Patterns
"Almost all the recent flights have been for leisure" commented Jim, and says that flyExclusive can discern this simply by looking at the destinations that they fly to, together with who is on board and whether travel is out and back. For example, if people are traveling with their family, to Wyoming and staying for a week or two, then the travel is very likely to be for leisure.
"Business travel has not come back yet," added Jim but when it does, he expects companies will not want to subject their staff to commercial airlines. SherpaReport has heard similar comments, about flights being predominantly for vacations and leisure, from many of the leading private aviation companies. None of them have so far seen a return of business usage. COVID is still a concern when flying commercially, but is far less of an issue for private flights, plus the commercial airlines have reduced their schedules and have had well publicized snafus with hundreds of flight cancellations, all making private a lot more appealing.
In addition to serving its Partners and Jet Club members, flyExclusive is also in the wholesale business, in other words it provides lift to other operators and brokers. These "Network Partners" currently make up about 70% of the flights on the flyExclusive fleet, but the Jet Club program has been growing rapidly.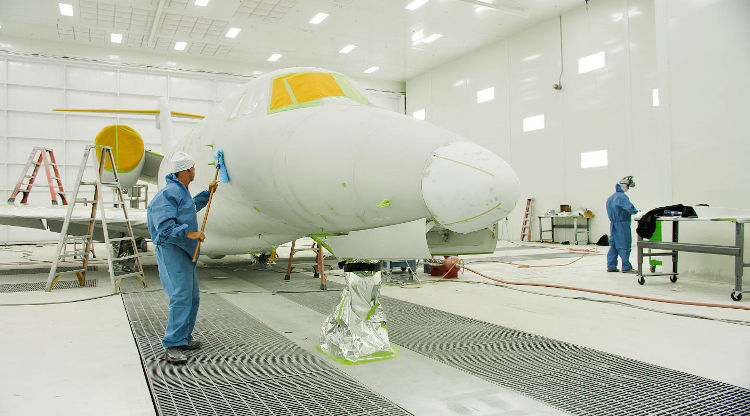 Paint & Maintenance
The company recently unveiled two brand new, facilities providing maintenance, repair and operations (MRO) services. They consist of an electrostatic painting and coating facility and an aircraft interior renovation and refurbishment facility. But Jim and his team are not standing still. They have also broken ground on an even bigger 45,000-square-foot facility to expand its MRO capabilities, with construction expected to be completed in 2022.
"flyExclusive is now the only Part 135 charter operator with the ability to paint our own aircraft, while our interior refurbishment capabilities enable us to tailor aircraft cabins to the highest standards of quality and luxury. No other operator in the world is able to exert this level of control over the look and feel of its fleet," said Jim Segrave.
Community
flyExclusive is headquartered in Kinston, in Eastern North Carolina and this is where the new facilities have been constructed. North Carolina is also Jim's home state. "We are important to the local community," said Jim, but then went further, adding "When I sold the business to Delta Airlines, I lost my business family and now I have it back."