Four Corners Aviation offers a novel program for companies that fly over 200 hours a year and want access to a corporate aircraft. The program really works for organizations that recognize the value of private aviation but that don't want the upfront capital expenditure of owning an aircraft, or want to keep a plane off the corporate balance sheet. It offers the financial surety of a fixed monthly fee, rather than varying monthly expense costs.
Background
Four Corners Aviation, headquartered in Dallas, manages and charters a diverse jet fleet based throughout the United States and operating around the world.
Sister company Mente Group is an aviation advisory and brokerage firm that has handled more than $10.5 billion in aircraft transactions.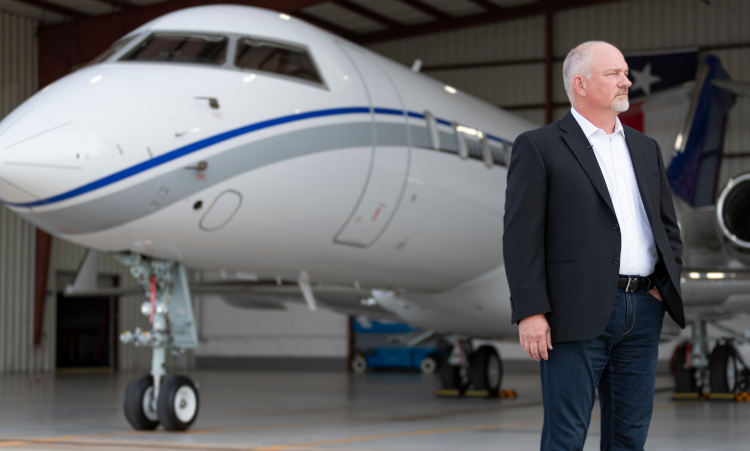 Corporate Jet As A Service
Four Corners describes the new Freedom program as "Corporate Jet As A Service" (CJaaS). This program enables customers to have all the benefits of their own scalable aviation department – with a customized and fully integrated lift solution, including aircraft, crew, operations, and supplemental lift, but without worrying about ownership, financing, administration, insurance, crew management, maintenance, or any of the management aggravations associated with private jet travel.
"Corporate Jet as a Service is an innovative arrangement that optimizes several advantages for our clients: fixed pricing, customized delivery, and no balance sheet treatment," said Brian Proctor, CEO of the Aquila Aviation Ventures, which includes Four Corners Aviation and the Mente Group. "CJaaS is a well-designed and financially strong solution for both corporate and private flying, which allows customers to focus on their core competencies while we perform ours," he added.
The entry level for this CJaaS Freedom program is 200 hours per year of flying. The program provides your own aircraft, based at a hangar near you, with your own crew, and guaranteed lift even if the aircraft is on the ground undergoing maintenance. The program is totally customized with the aircraft chosen to meet the customers mission requirements and the term of the agreement is for five years.
"Over decades as aviation asset advisors to top tier organizations, all of them love what the airplane can do for them – for their productivity, for their bottom line, and for their lives," Proctor said. "None of them really want to own and operate an airplane, however, they were willing to put up with the uncertainties to get what they wanted. With Freedom by Four Corners Aviation, they get everything they want without the hassle."
As an example, assuming:
a cost price of $7m for the aircraft
200 hours per year of flight time
2 x pilots in command (PIC)
1 x second in command (SIC)
all maintenance, engine programs, insurances, hanger cost, recurring crew training, all oversight fees, wi-fi, aircraft cleaning, aircraft stock etc included.
In this example, the fully inclusive monthly charge would be under $200k per month, with an hourly rate of $2,600.
With these customized programs, Four Corners notes that there are a few assumptions that can move costs. For example, if the client did not require two PICs, if the client and Four Corners sourced a more cost competitive aircraft and if the client wanted to partner with Four Corners Aviation and charter the aircraft during client 'downtime'. In the latter case, "if we chartered the aircraft an additional 150 hours around the clients flying profile; this reduces the client's costs quite substantially" said Vincent Kavanagh EVP at Four Corners Aviation.
"If corporates no longer want an aircraft on their books, we could take over flight departments," added Vincent Kavanagh, "with employees transferring to Four Corners and keeping the aircraft in the same hangar."
This is certainly an interesting program for those who want the benefits of private air travel, but want to avoid the issues of buying, managing, operating and then selling a plane.