Known as the "ultimate aerial SUV," the Pilatus PC-12 is one of the more versatile and luxurious aircraft used for private aviation. Manufactured by Pilatus Aircraft Ltd., Stans, Switzerland, the company has delivered more than 1000 PC-12s to the marketplace.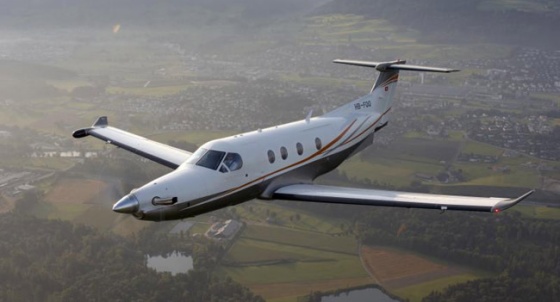 This single-engine turboprop aircraft offers ample cabin space of 330 cubic feet, seating for up to seven passengers in a corporate configuration and a sleek, compact design. Additionally, the aircraft's high-lift wing design accommodates shorter runways (less than 2,500 feet)—on paved or gravel surfaces. This feature gives the Pilatus PC-12 access to more airports, allowing it to deliver passengers and their guests as close to their target destination as possible. An extra-large cargo door enables transport of large, bulky bags such as golf equipment. The aircraft also features a fully-enclosed lavatory.
Scottsdale, Arizona-based AirSprint Private Aviation offers its clients the benefits of the Pilatus PC-12 through its fractional aircraft ownership program. Offered in 1/8 increments—or 100 hours per year, this program caters to businesses and individuals who utilize private aviation services on a regular basis to support their regional needs. AirSprint serves the Southwestern U.S. including Colorado, Texas and California. The following are some sample price ranges for fractional shares as well as monthly management fees and the hourly occupied rates.
| | | | |
| --- | --- | --- | --- |
| Fractional Share | Price Range | Monthly Management Fee | Occupied Hourly Rate |
| 1/8 of aircraft or 100 hours | $485,000 to $550,000 | $9,600 to $10,000 | $1300 to $1350 per hour |
Chris Richer, president, cites the aircrafts' comfort, reliability and fuel efficiency as major reasons the company is committed to the PC-12 in the Southwest. ""It has a very luxurious cabin," he claims. Additionally, he feels that the Pilatus PC-12 outperforms many light jets in both range and capacity. "Fuel consumption is one of the key advantages of the aircraft."
Richer also claims that the Pilatus PC-12's safety record provides great comfort to AirSprint as an operator, and to their clients.. "The PC-12 has a best-in-class safety record. There has never been a fatality on a PC-12 due to engine failure," he claims. Coupled with the company's pilot training, safety culture and safety management systems, he believes the PC-12 is one of the safest aircraft available. "Airsprint is proud of the fact that we have a spotless safety record with close to 70,000 hours of PC-12 operation," Richer says.
Alpha Flying, Inc., Portsmouth, N.H., offers its PlaneSense fractional program to clients. Offered in smaller 1/16 fractional shares, each share equates to 45 hours of flying time per year. This company provides travelers with a primary operating area that includes the continental U.S., Canada, Mexico, the Bahamas and the Islands of the Caribbean.
As with most fractional programs, items such as flight crews, maintenance, hangaring and operations are handled by the provider and PlaneSense is no exception. "We're committed to very personal service and have a dedicated flight department that delivers," says the company. With the PlaneSense program, "all you do is place your flight request with 8 hours notice, go to the airport and fly."
In addition, depending on the number of fractional shares purchased, PlaneSense gives clients access to more than one Pilatus PC-12 in its fleet. "[Owners] have guaranteed access to more than one aircraft when they need to perform two concurrent trips," says the company.
Overall, private aviation is for companies that value their time. "Not only does the PC-12 offer comfort, the time spent on a private aircraft is so much more productive," Richer asserts. "Executives tell us they relish these trips because so much gets accomplished."
---
Editorial update 2013: since writing this article, we've heard that AirSprint are no longer offering the Pilatus PC-12 in the US.