The new Unlimited Access Program gives G650 fractional jet shareholders access to the entire Flexjet fleet. G650 owners can pick the most appropriate aircraft size for any given flight and choose either direct account credits or additional flight hours.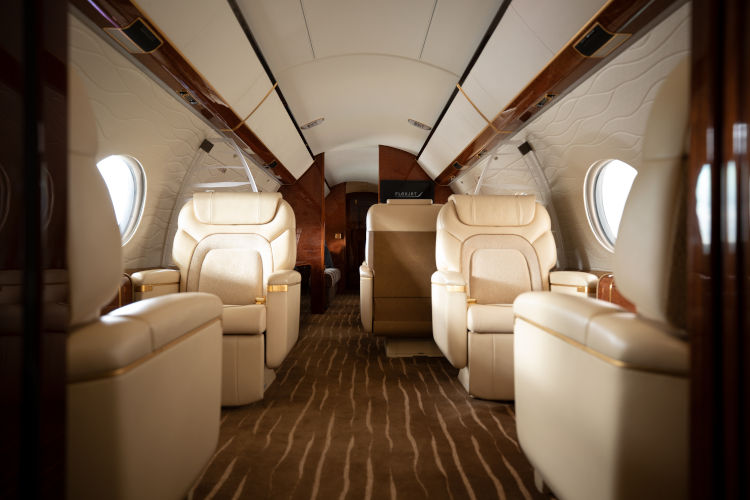 Gulfstream G650
The G650 is an ultra-long-range aircraft, capable of carrying up to 15 passengers with a range of 7,000 nautical miles (13,000 km), equivalent to up to 16 hours of flight time. It has a large, 46ft 10in long, spacious, quiet cabin which Flexjet has configured into four zones, providing room for meetings, dining and relaxation.
The Flexjet cabins feature a private entertainment area with a 42-inch TV and Ka-band Wi-Fi connectivity, configurable lighting, state-of-the-art materials and artisanal details such as custom inlaid wood veneer, fine textiles, crystal glassware and other elegant details.
The cabin pressure holds steady at a comfortable 3,290 feet, even at a cruising altitude of 51,000 feet. Throughout every flight in the Gulfstream G650, fresh air is constantly supplied throughout the entire cabin of the aircraft. While many commercial planes rely on fans to recirculate cabin air, every aircraft in the Flexjet fleet utilizes compressed air continuously gathered from the sky throughout each flight. That air is cooled, conditioned, and distributed throughout the interior, nonstop. At the exact same time, air is being released from the cabin, so that every breath one takes take is crisp, clean and unrecycled, minimizing jet lag and travel fatigue.
In the Flexjet fleet the Gulfstream G650 is part of the premium Red Label program, which features the industry's youngest fleet, custom cabin interiors and flight crews assigned to a single, specific aircraft.
Unlimited Access Program
With Unlimited Access, owners enter into a 100-hour fractional purchase or lease arrangement granting access to the G650. If at any time an owner would like to fly an aircraft type that is more mission appropriate for a trip, that does not require them to use the G650, interchange rates allow them to earn additional hours or monetary credits to their accounts.
D.J. Hanlon, Executive Vice President of Sales at Flexjet, gave the following example. This ultra-long-range aircraft is perfect for taking an extended family or team of colleagues to Europe, but perhaps not the best solution for a weekend getaway trip for two at a resort a few hundred miles away or a day trip from Chicago to Dallas and back for business. Owners can therefore fly their family to Europe for the summer on a G650, and then for instance fly each child to college in the fall on a Phenom 300 for a fraction of the cost of a G650 or fly business colleagues cross-country to meetings on a midsized Praetor 500.
In essence, owners can therefore right-size their aircraft for any given flight. This is accomplished by offering what Flexjet calls aggressive interchange rates that are exclusive to the G650 Unlimited Access program.
"The Unlimited Access Program is the perfect mix of the industry's most capable private jets and the G650, which enables travelers to circumnavigate the world with just a single stop," said D.J. Hanlon. "This is about as flexible as you can get, with Owners buying access not just to the G650 but effectively to the entire Flexjet fleet."
Note, "Interchange Rates" in the private aviation industry mean the exchange rate for one hour of flight time on a given aircraft to the equivalent flight time on a different size aircraft. For instance, one hour on a large Gulfstream may be worth two hours on a smaller mid-size jet. Fractional ownership and jet card programs typically include a chart of interchange rates between the different models in a fleet.
Adding More G650s
"We have already accelerated our 2021 fleet plan by 3 additional G650s," D.J. Hanlon told SherpaReport.
"When we added guaranteed access to the full Flexjet fleet, the word that kept coming up in conversation with our sales team was unlimited. And, in a soft launch with existing customers, we already have seen high demand for this program," said Hanlon.
Flexjet is also planning to add the even larger Gulfstream G700 to their fleet once the aircraft has entered production. This plane has a cabin that is 10 feet longer than the G650 and offers a 7,500 nm (13,900 km) range. D.J. Hanlon commented that it is likely the G700 will be a candidate for the Unlimited Access program. Back in 2019, Flexjet placed an order for 16 G700s worth $1.2 billion at list price.