The latest data for the preowned business aircraft market shows inventory continues to offer increased choice for buyers while transaction activity trends back to historical norms.
More Aircraft For Sale
AMSTAT, a leading information provider, says about 2,200 units (5%) of the business aircraft fleet are for sale. This is up 45% year-over-year, but still below a 10-year average of 3,000 units (equivalent to 8% of the fleet) being for sale. The biggest year-over-year increases in availability were in the heavy jet (+73%) and super-mid jet (+93%) market segments. These segments are also closest to their 10-year average, with 6% of heavy jets for sale compared to an 8% average (over 10 years) and 7% of the super-mid jets for sale versus an 8% average.
In terms of pricing, Andrew Young, General Manager at AMSTAT told us "In all business jet market segments, the short-term median values have plateaued, even crested in some markets. The median value of heavy jets is down 6% YTD. The median value for super-mids is down 2% YTD and for light jets is down 1% YTD. The median value of medium jets rose most of this year but is down 5% in the last 3 months."
Markets Normalizing
The market for preowned aircraft saw huge demand in 2022 and 2021, producing a large number of sales and very few aircraft available for sale. So far in 2023 preowned transactions for business aircraft are down 26% year-over-year, according to AMSTAT. This still puts the transaction numbers ahead of the same periods in 2019 and 2020. Looking at sales by type, year-over-year the heavy jet and light jet segments have seen smaller decreases in activity, with 25% and 20% drops in preowned transactions respectively.
The number of sales by quarter for the last five years are shown in the chart below.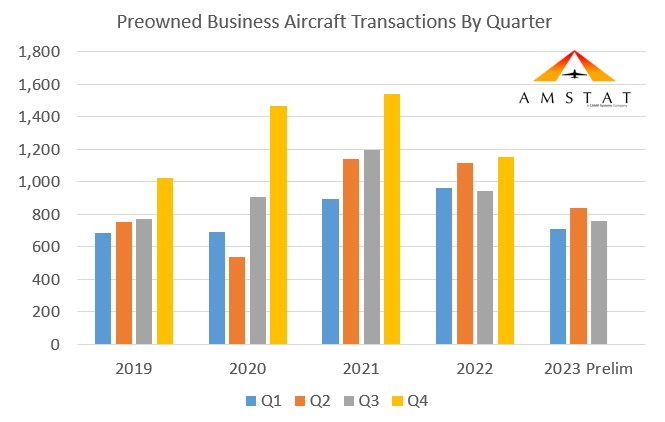 "Overall, supply is up, demand is down and the industry is trending back to historic averages and this is causing median values to plateau and even dip a little," said Andrew Young.
Market Outlook
In its 3rd quarter report the International Aircraft Dealers Association (IADA) says its members expect preowned prices to soften a little over the next six months, as the supply of preowned aircraft increases slightly. In surveying their members, IADA asked about expected demand over the next 6 months and the broad general feeling was that demand for preowned aircraft would slightly decrease.
The IADA members expectations for prices over the next six months are shown in the diagram below. This includes price trends for turboprops, light jets, midsize and large jets (including ULR).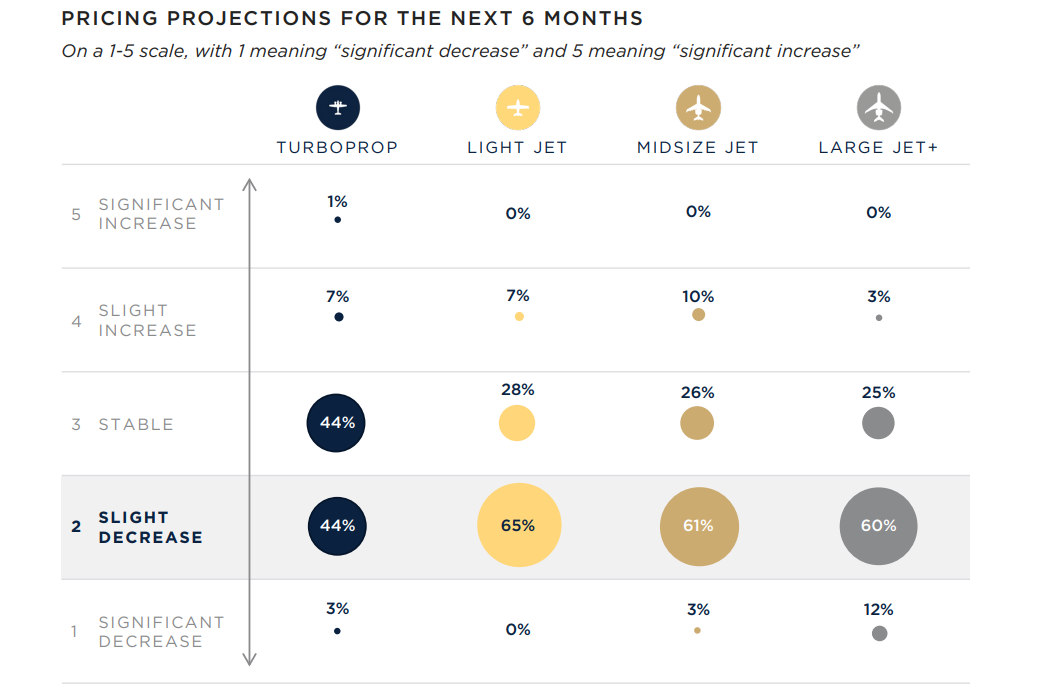 IADA notes "For those prospective customers still sitting on the sidelines considering the value equation of business and private aviation, the good news is that inventory choice is expanding, price inflation has slowed if not slightly slipped, and supply chain quirks and bottlenecks are being systematically ironed out industry-wide."