Stretching from the southernmost tip of the Baja Peninsula twenty miles northeast to San Jose del Cabo, Cabo San Lucas and Los Cabos offer world-class resorts with a small town feeling. Stunning beaches and rock formations mix natural beauty with the modern luxury of the resort corridor, golf courses and the perfect nightlife for a beach town -- flip-flops required.
The population of this beach town doubles during high season -- March through July -- attracting beach lovers, golfers and serious fishermen alike. No matter when you choose to visit, be ready for ultimate relaxation on beautiful beaches or the ultimate in adventure with jet-skiing, kayaking, parasailing, snorkeling, and scuba diving.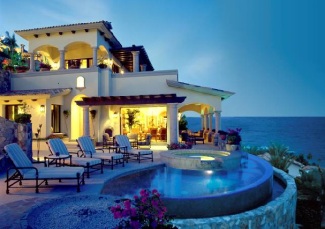 Places to go
If a beach party is what you seek, head to Playa El Medano. Hopping with activity, this beach features restaurants and bars in the sand, as well as beach volleyball, Jet Skis or Sea Doos, kayaks, small catamarans, sailboats, ski boats, boogie boarding, and parasailing. This beach is party central, with all-day happy hours and vendors selling every concoction under the sun.
For a more tranquil experience, try Palmilla Beach. A protected cove creates a calm atmosphere where you can perfect your tan and finish that novel uninterrupted. Playa del Amor, or Lover's Beach, is the perfect hideaway for a romantic afternoon. Blocked from the rest of Cabo by tall rock formations, the easiest way to get there is to hire a water taxi and arrange for it to pick you up at a pre-determined time. Pack a lunch and spend the day relaxing on your own private beach surrounded by the Pacific on one side and the Sea of Cortez on the other.
A word to the wise: there are no lifeguards in Cabo, and the riptides are notoriously strong, especially off of Playa del Amor. If you swim, make sure you go with a buddy. Only swim on the Sea of Cortez side of Lover's Beach. Pay close attention to all warning signs.
There's more to Los Cabos than beautiful beaches, however. Take an ATV tour through Desert Park -- a great way to see the natural splendor of the desert, and the rare sight of a desert and a sea coming together.
The water surrounding Los Cabos is home to over 800 species of fish, and each year thousands of fishermen converge on the town for their shot at catching the biggest marlin in "Marlin Alley." Whale watching is popular from January through March, when the huge, graceful creatures make their way past the peninsula.
Things to do
Few things are as invigorating as a horseback ride on the beach. Stop by a stable, such as the Red Rose Riding Stable or the Cuadra San Francisco Cabo Horses. Wear long pants and lots of sunscreen.
The marine sanctuary of Bahia San Lucas is a diver's dream. Whether you are Scuba certified or prefer snorkeling, you will be rewarded for your efforts by colorful schools of parrotfish, angelfish, goatfish and triggerfish. Stay away from the Pacific side with its strong currents and stick to the marina side of the arch. Rent equipment or book a tour through one of the many providers, including Adventure Cabo Deep Blue, Andromeda Divers and Blue Adventures.
Cabo San Lucas and Los Cabos have become one of North America's hottest golf destinations, and it's no surprise why. Six championship courses, including designs by Jack Nicklaus, Robert Trent Jones II and Tom Weiskopf are challenging yet playable for low handicappers and less experienced golfers alike. Visit the El Dorado Golf and beach Club for a Nicklaus designed course, the desert course at Cabo Del Sol for Weiskopf's design or the Cabo Real Golf Club to see what Jones can do for your game.
Where to Stay
Destination Club Homes
Cabo San Lucas and Los Cabos have a large and varied selection of destination club homes and private residence clubs that give the discerning traveler a home-away from-home. If you'd like to be able to retreat from the crowds, or bring the party back to your place without disturbing the whole floor of your hotel, such a property may be a great option for you. Because the area is situated at the tip of a peninsula, homes are never far from the beach or town. Most of the destination clubs have homes in the area, with several clubs having multiple homes. Member surveys from many of the destination clubs consistently rank Cabo as one of the most popular destinations.
Stay at the Ultimate Resort Los Cabos and enjoy spectacular views of the Sea of Cortez in the confines of an exclusive gated resort community.
See spectacular sunsets at the Solstice Casa Estrellas, tucked into the hillside of the Pedregal community.
Exclusive Resorts Los Cabos offers 31 residences averaging 3,500 square feet in the Esperanza Resort.
The Lusso Collection has two wonderful options for the luxury traveler, including the Villa Miguel and Casa Lolita, both beachfront properties.
The Portofino Club Cabo San Lucas home is situated in the gated community of Cabo Del Sol, home of a Jack Nicklaus golf course. You'll also find the Quintess Casa De Playa bordering the eighth hole of this Nicklaus-designed course.
Enjoy views of ships sailing into the marina at High Country Club Cabo San Lucas. Swim in your very own infinity pool while gazing out at the crystal blue sea at Quintess The Casitas. Or, eat your breakfast on the patio of Quintess Casa Primera Luz and watch the sun rise over the Sea of Cortez.
After a long day of golf, unwind in the jetted tubs in the dual master suites of Bellehavens Cabo Del Sol. Private Escapes Casa Oceano is for golf lovers, located on the fifth hole of the Ocean Golf course at the One and Only Palmilla.
Private Residence Clubs
At Capella Pedregal, you'll have use of the Beach Club and the Yacht Club, as well as the signature Auriga Spa. At The Residence Club at Mision La Serena enjoy the best of both worlds -- a private residence with 5-star hotel service.
Other Luxury Accommodations
If having someone else take care of the details is what you're looking for, a luxury hotel may make your dream vacation become reality. Check out Esperanza Resort for seaside hammocks and an art gallery. ME Cabo is the hot spot. Guests who stay on The Level at ME enjoy a private lounge and enhanced services. If you're looking for an all-inclusive resort, Melia Cabo Real offers exquisite dining and a huge pool. For other leisure options there are several Los Cabos hotels and lodging choices.
Other Activities
One can't-miss spot in this Mexican paradise is Cabo Wabo, the tequila cantina owned and operated by former Van Halen singer Sammy Hagar. Pick up a bottle of the house tequila while you're there. Don't miss Carnival Los Cabos in March, the Rolex IFGA Fishing Tournament in May, the Cabo Jazz Festival in July or the Baja Ha-Ha Sailboat Race in November. For a real cultural experience, participate in Day of the Dead rituals on November 1 and 2, when families pay respect to the souls of their loved ones who have passed on.
Fast Facts
Getting There
SJD Los Cabos Mexico International Airport. Fifteen airlines fly into the three terminals of this airport. Book ground transportation ahead of time to avoid being taken for a ride. Most destination clubs and private residence clubs will be happy to arrange this for you.
Weather
Temperatures range from the mid-70s in the winter to the mid-90s in the summer. Cyclone season runs June through November.
Useful Websites
Los Cabos Guide A great guide to activities, restaurants and nightlife
Los Cabos EcoTourism A list of environmentally friendly tours and day trips
Cabo Weather Check it before you pack!
Visit Los Cabos A complete calendar of festivals and events, year-round
Good Reads
Houses of Los Cabos by Mauricio Martinez -- a gorgeous coffee table book of some of the most magnificent homes in Los Cabos.
Baja Bound: To Cabo and Back by Taggart George -- The tale of a sixteen-day adventure driving the Baja Peninsula to Cabo and back.